Antra AH6-260-6320 Solar Power Auto Darkening Welding Helmet Review
A welding helmet like the Antra AH6-260-6320 safeguards your eyes, face and neck from harmful components like flash burn, UV light, sparks, infrared light and the heat. One of the condition that this product needs to avoid most is the arc eye. This happens when your cornea is inflamed.
To be able to find the ideal welding helmet for you, we have to read different reviews from a lot of people. This review will be very helpful in choosing your product. Features, benefits, pros, cons and other things to know for this product are going to be mentioned below.
Features
Created for welding and cutting methods (e.g. MIG, MAG, TIG, SMAW and Plasma arc.)
Complete automatic power ( ON or OFF)
Compatible to cheater lens
Continuously adjustments for delay time and sensitivity control
Lightweight framework: 435 grams
Viewing Area: 98 mm x 44 mm/ 3.78" x 1,78"
UV or IR Protection: Permanent Shade DIN16
Light state: Shade DIN4
Dark state: Shade DIN 5-9/9-13
Switching Time: Light to dark 0.00004 sec
Sensitivity control: adjustable step-less knob
Helmet material: high impact polyimide nylon
Interior lens cover
Inside lens cover
Head gear
Adapter for fiber metal hard hat
Sale
BENEFITS
With its easy-to-us mechanism, you can easily use it without any complications.
With its heat resistance, your face or head will be protected while working.
With its weld splatter resistance mechanism, you will be safe from splattering materials.
With its complete head protection, your head will be protected fully while working.
With its light weight, it is easy to carry.
With its compactness, it can be easily stored.
With the sensitivity knob on the right side, you can adjust various ambient light levels
With the second switch inside, you can control or change between grind and weld mode
With the replaceable parts, you can easily change these instead of buying a new one.
With multiple sensors, the product senses the arc strike more reliably.
With the fixed shades, you don't need to nod your head and raise/lower down the helmet to see a visual.
With its multiple applications, you can use it for Arc, Mig Tig and other plasma applications
Pros
Suitable for Arc, MIG, TIG and Plasma applications with grinding feature
Large viewing size 3.78" x 3.50 premium sensors
Cheater lens or magnifying lens compatible framework
It has many shades to choose from
It comes with a manual and 6 replacement clear lenses
The autodarkening feature works great
The Antra AH6-260-6320 Solar Power Auto Darkening Welding Helmet is very comfortable to wear and lightweight.
Price is very reasonable
The viewing window is large compared to low cost helmets.
You can flip a switch to low range and dial it down immediately.
Comes with extra protectors
The adjustments for this helmet are much uncomplicated to use.
It darkens when a spark is being detected and stays that way the entire time.
It has an adjustable fitting
Delivery for the product is fast and quick.
Flash response is really quick
It holds a grinder setting
There are a lot of rooms for adjustments
Parts are completely replaceable
High-quality performance
Great for school work as well!
ANSI certified
The product can be used through solar power or even batteries
Cool looking design
Cons
                There are few setbacks for this product. First one is its durability, if you don't take care of this product, of course it will break. If you work 50+ hours a week, you should probably take good care of this helmet. If you are really picky about the origin of the product, you could probably hate this helmet. However, we all know that Chinese manufacturers also makes a lot of durable and amazing things. You just have to find the right dealer so you will not be given a crappy model of the Dragonpad Welding Helmet.
ATTENTION
Before Welding
Always make sure that the front cover lens of the Antra AH6-260-6320 Solar Power Auto Darkening Welding Helmet is clean and the sensors in front of the Auto-darkening filter cartridge are not being covered by dirt or any debris. Added to that, make sure that the internal and front cover lenses are correctly attached.
Check parts for wear or damages before using the product. ANY scratched, damaged or cracked components should be changed as soon as possible to avoid causing injury.
Make sure that the helmet is set to weld mode. The grind mode is for grinding works ONLY.
Adjust to the proper shade.
Adjust the head gear to properly fit on your head and your face.
Warnings:
DO NOT place the product on a hot surface.
DO NOT open or tamper the Cassette.
This product doesn't against extreme hazards or liquids.
DO NOT drown filter in water or expose cassette to any moisture.
DO NOT use solvents on the product's filter screen, over lenses or helmet parts.
USE product at temperatures between -5 degrees C and 55 degrees C.
STORE product at temperature from 20 degrees C to 70 degrees C.
DO NOT use extreme cleaning components for the helmet.
Sale
Maintenance:
If the front cover lens is cracked, scratched or pitted, replace immediately.
If there is a slow responsiveness or poor vision with the product, stop using the helmet and contact the manufacturer or supervisor.
CONCLUSION
Welding isn't an easy task. You can get yourself injured or even worst case scenarios. Therefore, with this review, a good result and your safety will be ensured during welding or grinding jobs.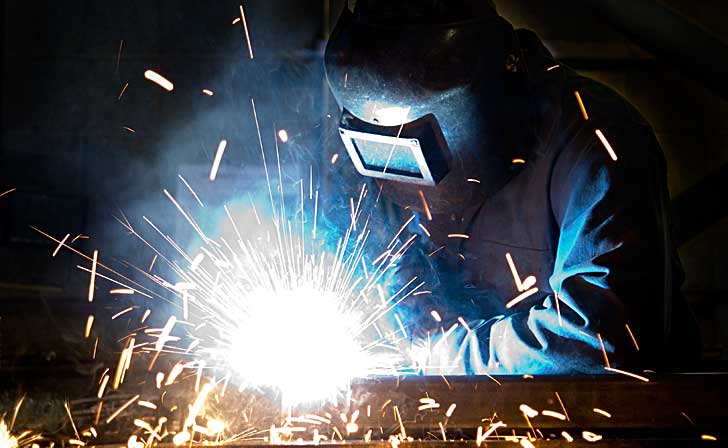 It is very important that your safety comes first by protecting your head, neck and face with this amazing product called as the Antra AH6-260-6320. So what are you waiting for? Buy now!
See more best welding helmet here!